"Behind the Lens" Part 5 How the Calendars started
Published 15:33 on 1 Apr 2020
In parallel to the Whitbread Races, the first Rick Tomlinson Yachting Calendar was published in 1989. This was a result of two particular pictures, the Jameson knockdown and the Gotland Runt in fleet in Sandhamn, Sweden.
The Jameson Whiskey picture was taken at the 1987 Irish Admirals Cup trials off Howth. It was blowing hard, and I was taken out to photograph the racing in a small 4 meter Avon RIB.
It was impossible to take pictures from the RIB so with just minutes to go before the start I was transferred to the committee boat. I went straight up on to the fly bridge and put the camera to my eye, immediately Jameson Whiskey was hit by a big gust. As the main was eased the leeward runner caught and pinned the boom in resulting in the knock down, it was only over for a second or two but as I had the camera to my eye I instinctively pressed the shutter release. When I looked astern I saw that the RIB I had just got out of had capsized with the driver sitting safely on top of it.
There were many friends and well known sailors onboard Jameson so it would be great if they could share the crew list and perhaps give us an insight into how it was onboard and if I have my story correct?
The camera was a Nikon F3 with a 300mm f4 lens, the film was a new Kodachrome 200ASA fast film that I thought would be ideal for yachting, but turned out to be just too grainy.
The second shot was also a "right place - right time" picture. I was sailing the 1987 Gotland Runt race on the maxi Nivarna. The skipper was Neil Cheston and there was a great crew onboard including Paul Standbridge, Patrick "gunner" Banfield, John Foster, Taff Dodds, Michael and Dee Bach, Phil Harris to name just a few. Add names in the comments please.
Before the start in Sandhamn something needed doing at the mast top, I forget what it was now, but I volunteered and grabbed a camera with a fisheye lens thinking there might be picture from up there. I took a few shots and didn't think anymore more about them until the film was processed a few weeks later.

Back in London I took the slides into the Seahorse magazine office. It was the then editor Jason Holtom that suggested, in a throwaway remark, that they would make great calendar pictures. That remark sowed the seed of publishing my own calendar which came out in 1988
The 2020 edition was the 32nd year of the calendars publication! For the 30th edition we made a special page with one picture from each year.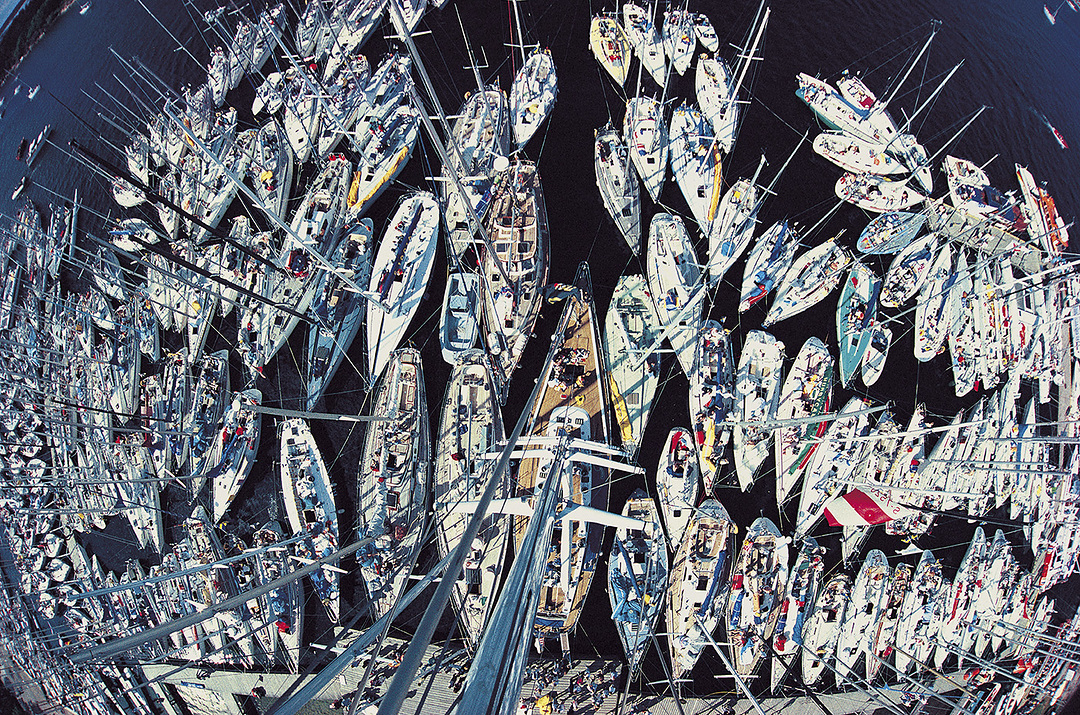 Last updated 12:28 on 26 June 2022